Official Sod cutting Ceremony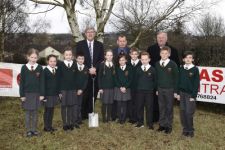 Education Minister cuts first sod on £6.8million new build at St Mary's Primary, Banbridge
Education Minister John O'Dowd has cut the first sod on a £6.8million new build at St Mary's Primary School in Banbridge.
The new build for St Mary's was included in the Minister's capital announcement in June 2012. The new school will be a 14 class base primary school with a single nursery unit and two Moderate Learning Difficulty classrooms. The pupils have been decanted to the St Patricks College site for the duration of the build.
Speaking as he cut the first sod, the Minister said: "Today marks a major milestone in the history of your school. This £6.8million investment will soon culminate in a brand new school, which will provide modern, state of the art facilities for young people to learn in and an improved working environment for all the school staff.
"Ongoing investment in our schools estate is essential if we are to continue to provide a high quality education. As well as that investment in our schools estate it also contributes to the local economy and secures many construction jobs.
"I am delighted to be here with you today to see your new build get underway. I wish you all well for the future and I look forward to seeing the new school when construction is completed."
St Mary's School Principal Des O'Hagan welcomed the Minister to the site and the beginning of construction work. He said: "This is a very exciting time for all involved with our school. We are absolutely delighted that St Mary's children will continue to develop and flourish in a brand new building.
"On many occasions we thought today might never happen but we are delighted for all our parents, staff, and pupils present and future who will enjoy our new school building with the most modern facilities available."
New School Developments
In June 2012 the Department of Education announced an allocation of £5.2 million for the St. Mary's new school building project.
Temporary mobile accommodation was errected on the St Patrick's site and St Mary's moved to their temporary school In April 2015.
Glassgiven Contracts' commenced work on the St Mary's site on Monday 18 January. Work is projected to last 66 weeks. This is a completion date of May 2017. It is anticipated that we will occupy the new school during the summer of 2017 ready for the start of the 2017 academic year.
Progress and photographs will be updated monthly.