PTA Lotto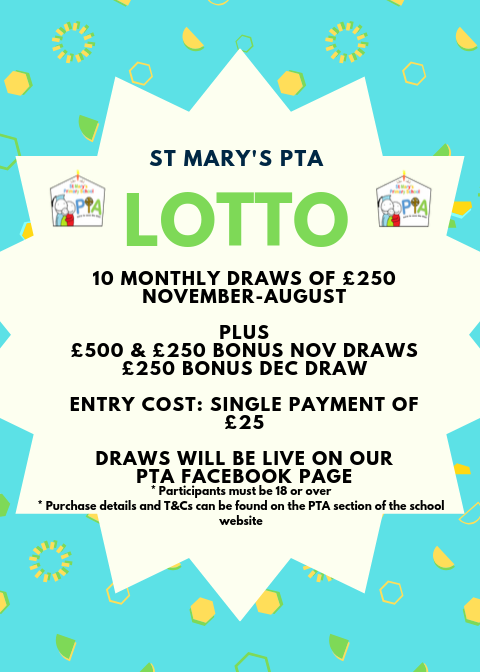 St. Mary's PTA Lotto
The PTA are very pleased to announce the return of the Lotto for 2019/2020 after the fantastic success of last year.
This year we are adding an additional £500 to the total prize pot and 2 extra winners. That's 13 winners sharing £3,500.
10 monthly draws November 2019 until August 2020 - £250 prize winner each month

Bonus £500 winner November 2019

Extra £250 winner November 2019 & December 2019
For your chance to be one of these lucky winners, all you have to do is to make ONE SINGLE payment of £25. This gives you two entries into each draw.
That's as little as £1.92 per draw!
Fill out the form below return it and payment(s) to either the school office or your child's teacher. Receipts, including individual entry number(s), will be issued. Please put your child's name and class on the envelope.
The final opportunity to join the PTA lotto will be 31st October 2019. The November 2019 draw will be live on the PTA Facebook page.
Teamwork...Together Everyone Achieves More!