PTA Lotto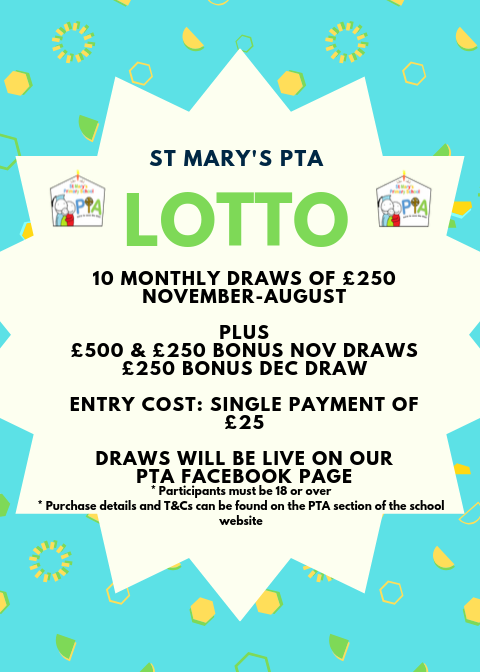 St. Mary's PTA Lotto
The PTA is very pleased to announce the return of the Lotto for 2020/2021 after the fantastic success of previous years.
This year we will have 13 winners sharing a total prize pot of £3,500.
One big Christmas Bonanza where all 13 winners will be drawn in one evening.
12 - £250 winners
1 bonus £500 winner
For your chance to be one of these lucky winners, all you have to do is to make ONE SINGLE payment of £25. This gives you two entries into each draw. That's as little as £1.92 per draw!
Fill out the form below return it and payment(s) to either the school office drop box or email to stmarysptalotto@gmail.com. Entry can be purchased via the school app also.
Individual entry number(s) will be issued via email.
The final opportunity to join the PTA lotto will be Friday 11th December 2020 and the draw will be live
on the PTA Facebook page.
Teamwork...Together Everyone Achieves More!